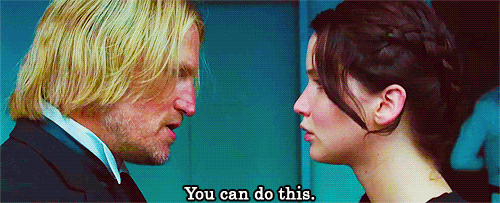 Hello, friends! Well, we are back to the start of another week. I tried to find a "happy" Monday gif, but there really wasn't one. I'm actually in a really good mood today, so Monday doesn't seem to hurt as much this week. I also got a good night's sleep, so that helps immensely.
I had a pretty killer weekend. I feel like it was the perfect blend of fun and relaxation. It's probably going to sound really boring, but it wasn't to me. My definition of a "fun" weekend sure has changed, and I'm okay with that.
1)
I came home from work on Friday night to discover that...
ROSIE HAD KITTENS!
Their birth wasn't a total surprise, but because you can't really pinpoint when an animal will give birth, I was shocked.
When I came home from work, I started looking around the house for her, because, well, I knew she was pregnant and could have those kittens any day now. I first looked in the basement, as that's where she often is if I can't find her. She likes to lounge and nap in the dark quietness near the furnace. Miikka was racing around following me as I looked for her, as if to say he knew where she was and I wasn't looking in the right places. When she wasn't downstairs, I had a feeling she was in my room, so that's where I headed next.
As I got to my room, I saw Rosie right away and called out to her. As soon as she heard my voice, she turned her head and rolled over...
and there they were!
Already feeding were three little kittens who weren't even dry yet, so she had obviously only very recently given birth. I was the epitome of stunned. She had six total, but one was stillborn. The remaining five are healthy and cute as can be.
I was honestly afraid that once the kittens were born, Miikka would try to hurt them. He's the sweetest boy, but I've heard stories about males eating/killing babies, so I didn't know. I couldn't have been more wrong. He's been so protective of both the kittens and Rosie. He seems to be happiest when he can just lay by them and make sure they're okay.
I moved Rosie and her babies into the basement since she seems to like it there, and would also have peace and quiet. However, this made Miikka very upset, as he laid by the basement door and cried for a quite awhile. The first thing we did Saturday morning was go see Rosie and the babies, and he was very excited. I noticed that Rosie really didn't seem too keen on being down there away from everyone, because she kept trying to come upstairs.
On Sunday morning, I thought I was hearing things because I could hear little kitten cries. Then, I got worried that Miikka had brought one upstairs on his own or something. Next thing I know, Rosie is running through the dining room with a kitten in her mouth, en route to the cat tree we have. To my surprise, she had been bringing kittens up and putting them in the cat condo, so that's where they are now.
Miikka likes to perch himself on top of the cat condo, where the kittens are. He's appointed himself Chief Kitten Guard.
I can't wait to share more pictures of the kittens as they grow. I'm already obsessed with them!
2)
I went a little crazy and got a bunch of Team USA gear on Saturday. I got three t-shirts, a jersey, and a hat. As far as I'm concerned, you can never have enough Team USA gear, especially during the Olympics.
What made this little shopping excursion even more exciting was that I went with one of my brothers. We don't get to spend nearly enough time together, so it was nice to get a little bonding time. He got a bunch of fishing stuff, while I went a little crazy on the USA Hockey gear. That little shopping trip definitely made my whole weekend.
3)
My back is hurting a lot, and I know it's from me falling last week. I'm headed back to the chiropractor this evening, so hopefully he can get me some relief. My back was feeling pretty awesome until I fell again, and it sucks that I've regressed. I am so bad at being graceful.
4)
Have you been watching the Olympics? Any time I was home over the weekend, that's all I did. I even watched replays after I'd seen the live broadcast.
The women's hockey tournament has started already, and USA plays Canada on Wednesday morning at 7:30 a.m. USA men's hockey open the tournament against Slovakia at 7:30 a.m. on Thursday. Needless to say, I will be at my desk and ready to go with coffee and breakfast in time to see puck drop of both games.
What are you favorite Olympic events?